Inland Empire Bathing Component Leader NuWhirl,
a Water Technology Company, Names New President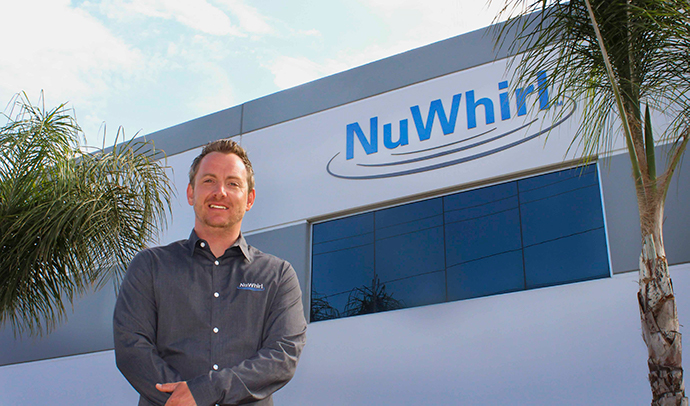 Corona, CA, July 11, 2018: Inland Empire bath products manufacturer and distributor, NuWhirl Systems, has promoted James Runnion from Executive VP of Sales and Marketing to President. NuWhirl CEO, Richard Rivera, announced the position by stating:
NuWhirl's owners, the Board of Directors and I believe that Jim will lead NuWhirl to a new and exciting future.
The change went into effect June 1.
Runnion has helped the company grow more than 700 percent from its humble beginnings in 2005, when three employees managed everything from sales to operations, juggling engineering and order fulfillment. He joined NuWhirl to manage the warehouse in 2009, moving into positions like shipping and receiving supervisor, corporate sales rep and sales manager before ascending into the upper management of sales, business development and marketing.
Jim spends his free time pursuing a variety of creative and outdoor interests including music, hiking, camping and exploring nature on his ATV. Jim's focus on healthy living, environmental issues and social consciousness is reflected in NuWhirl's community endeavors. Spirit League, founded by NuWhirl majority shareholders Mike and Leslie Echolds, is a sports league for high functioning special needs individuals aged five to twenty. The Temecula Valley Dance Connection, another brainchild of NuWhirl's principals, teaches country dance to teens and young adults with special needs.
About NuWhirl Systems
NuWhirl provides a full comprehensive line of products such as pumps, air systems, and electronics to service the whirlpool bath industry. Through their ongoing investment in R&D and their independent research, NuWhirl has become a leader in luxury bathing. The INFUSION Microbubble Therapy system encapsulates NuWhirl's long-term commitment to redefining and reinvigorating luxury bathing while remaining water-conscious.
INFUSION provides a brand-new and unmatched bathing experience with proven benefits to end consumers, who are incorporating their bathing habits into an overall lifestyle choice of proactive wellness.
Proven Results: NuWhirl conducted an efficacy study via an independent lab. Those test results underscore the company's assertion: Your skin will be smoother, more hydrated and more moisturized after using INFUSION for at least 10 minutes.
INFUSION is the only system on the market that has been independently lab tested.
Since 2005, NuWhirl has been perfecting innovative products such as their microbubble INFUSION system and CozyHeat surface heaters. NuWhirl's business-to-business sales model and ability to out-perform their competitors has made their pumps, jets and microbubble systems popular with the leading tub manufacturers. In 2019, they are participating in the industry's largest trade show, Kitchen and Bath Industry Show (KBIS), in Las Vegas where they will showcase new INFUSION advances and other innovative product offerings.
For more information about NuWhirl, please visit their website at www.nuwhirl.com.
Media Contact: Clair Bancroft, (951) 817-5600
Email:
Website | Facebook | LinkedIn